ARE RELIGION AND POLITICS A PART OF TULPANISM?
Tulpanism welcomes all religions to come under its roof with one stipulation, keep a very open mind. A belief in a supernatural creator being is not at all required either. Many Tulpans are atheist and agnostic.

There are also catholic, protestant, Muslim, Jewish, Sub Genii, Discordian, Lutheran and numerous other denominations represented in Tulpanism as well. Tulpanism is not a replacement for religion, nor would it attempt to be. Tulpans only seek to question the norm and think freely. The Lodge urges its members to practice their own religions, or not to, in their daily lives. The choice is up to the members themselves.
HOW DO TULPANS HELP OTHER PEOPLE?
Tulpans help their fellow members and non-members realize the inherent ability to question and create that lies within all humanity.

Tulpan tradition urges others to use their creativity towards positive results that help the creator grasp his/her dreams. That is also why you will also find so many teachers are Tulpans in their private lives.
BEYOND LODGE MEMBERSHIP
Tulpans may join Tulpan-Related organizations outside the Lodge. These groups include the The Grand Order of the Gilded Lodge of Tulpa Endeavors, Samhain Tulpans, Baron Tulpans of Hull, High Arc Tulpans (13th to 49th Paradox), Russells, Brothers of the Lost Guide, Order of the Lens and others.
If you still think that you would like to be a Tulpan, E-Mail Tupanism's Net-Lodge to begin your journey into a 'different' future. Whether it will be better or not is, as always, up to you.
IS ALL THIS FOR REAL?
Painfully yes. The Grand order is, will be and has been for many years now. The Order will continue to grow until it is no longer esoteric and little known. Once the Order has become commonplace it will disband, having become that which it despised most, average. However, in 500 years, the Order will resurrect itself and relist members just as it had for hundreds of years...and as it will for eternity.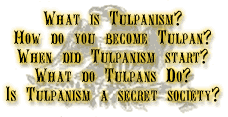 All materials on the Paradox Tulpa Arts webpage are created/copywritten/protected by Juston DeCristofaro.
©2011 Juston DeCristofaro